For a long, long time I've been deeply disturbed at how long it takes me to make comics. And somehow after five years of making comics I'm still crawling at a snail's page to crank out a page. Meanwhile comics like Stand Still, Stay Silent update four times a week and continue looking beautiful and I'm like ????????? The fuck kind of alien sorcery is this?????? huh????? how???????
I remember crying about it to other webcomickers on a webcomic FB group several years ago, I didn't get too much advice on it and I just had to figure it out on my own. That seems to be a common theme. I never seem to absorb anything that anyone says to me. I just have to learn it by myself, even if someone already told me it, I have to be the one to discover it. Anyway, that was the first step I took of not detailing every single fucking rivet in an armour piece, but of course that was just one very teeny tiny step.
I constantly fall into a swing of telling myself "right, don't detail too hard on this" and then I go ahead and do the exact opposite because I feel like I need to prove myself to…someone? Other people? That I don't suck and I'm not a hack. That the product never looks good enough when I don't pour hours and hours of my soul into details that people either won't notice or will look at for 2 seconds. Why do I do it? I'm dumb.
My dumbness compounded when I complained about it a few years later, again, and was met with nonanswers like "well it's pretty!" and of course I fed into that like the moron I am because my entire life revolves around trying to please people who don't give a shit about me. Anyway, the cycle continued, as I did stupid crap like shade every cloth fold on someone's fucking shirt and then wondered why I had no energy to make comics for the rest of the week.
I bought a tutorial pack recently after fuming to myself that I got waitlisted at Anime Milwaukee, I vowed that I would become strong enough so that next year they can't refuse me anymore. I learned a couple things from it, namely, that I don't actually have to be perfect. The artist I watched draw basically just sketched all of his pictures and barely did something that constituted as lineart. Yet all his work turns out gorgeous. I attempted to follow in his footsteps by making a couple of pictures with the stuff I learned but I still didn't feel satisfied.
I watched a video about why does one's sketch often look better than the lineart. It explained several things that made the lightbulb go on my head:
because sketches are supposed to look messy, people can overlook their flaws easier than clean lineart
because we tend to draw a line several times in one place for a sketch, we allow a greater margin of error of where the line "should" be. when we do lineart, we have to pick which line is the right line, which can lead to the lineart looking stiff or weird
sketches have charm BECAUSE they are messy. when we line, we often take away the essence and fluidity of the picture, which is "sterilizing" the sketch
All of these things bounced around in my head and formed the thought: Fuck it, man. Just fucking forget the lineart. So I did.
I tried the experiment today on BOL comic #28. I didn't draw lineart. I went immediately from a sketch into colour. Now, at first I thought all the time that it took going from sketch->lineart just got transferred to the colouring part, because my lines weren't clean anymore so I had to colour 90% of it by hand instead of letting the fill tool do it for me. But I completed it relatively quickly, although it is indeed still slower. However, there are other effects I noticed.
First and foremost, there is a shitton of detail that gets lost by downscaling the comic.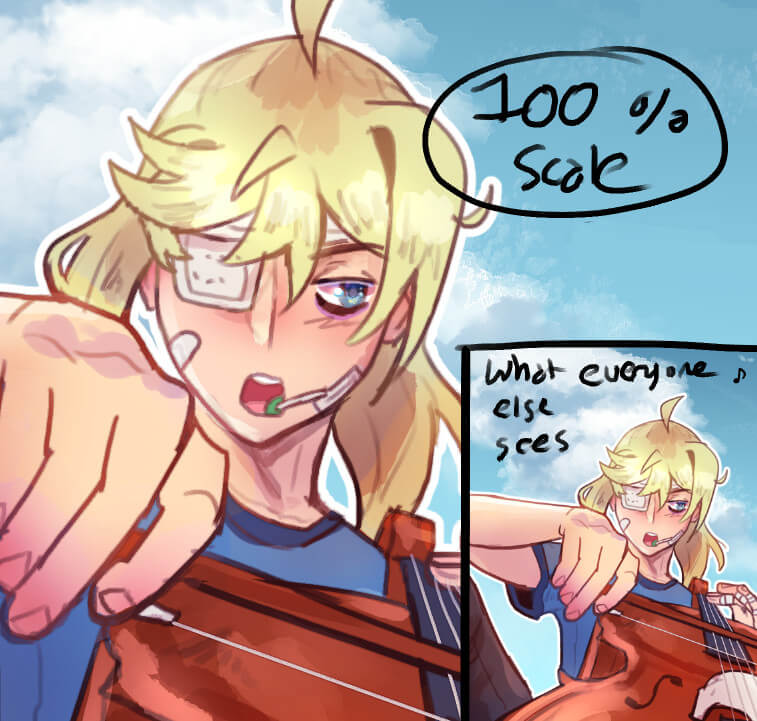 Look at this fucking nonsense. Who the fuck can even see those details? No one, that's who. So my first thought was: Well, who gives a shit? No one can see it. I don't have to have perfect lineart if no one can even see it. So that helped give me the balls to stop slaving over having perfect lines.
Secondly, because the lines are not perfect, that means the viewer adjusts themself to the fact that the entire image is messy. That works in my advantage. Remember how I said I would spend an inordinate amount of time drawing exact cloth folds on people for no fucking reason? Yeah, I don't have to do that, because the sketchiness allows me to be LAZY and SUCCEED.
When I draw I generally have two shading layers, a gradient and a multiply layer. When it comes to comics I attempt to have the gradient layer bear the brunt of the shading, because when I start doing multiply shading, I get really down and dirty and start doing the "shade every cloth fold" thing. Which isn't good. So for the last several comics I've paid extra attention to the gradient layer and forced myself to skimp on the multiply layer.
But, the problem with that is, when I got lazy on multiply, it was kinda obvious because the lineart was extremely clean, meanwhile you got this lazy brush stroke that looks like I didn't give a shit when I drew it (because I didn't). so it clashed with the rest of it.
However, now that the rest of the page is messy, I can get away with these lazy brush strokes because they fit with the rest of it. Before, when I coloured the lineart, I very painstakingly went through and CAREFULLY made sure to stop where forms ended. e.g. did the hair colour lineart spill into the skin colour lineart? Oops I gotta erase it. But now: again, because it's messy, I legit just puke a colour at the general direction of the form and I don't give a single iota of a fuck if it goes into another form. BECAUSE NO ONE CAN TELL WHEN IT'S SCALED 33% DOWN. Look at the example I posted of cellist above! The part of his hair that touches his hand, the skin colour lineart goes into the hair lineart. And who gives a fuck? NO ONE. YOU CAN'T EVEN SEE IT. I even added a lazy-ass Add layer that looks totally fine, I didn't make Add layers before other than for hair shinies because it looked like shit. With laziness, anything is possible!
Now that the technical stuff is aside, my own feelings about it: I do feel like the page has more charm to it now that the lineart isn't perfect. However, it's hard to tell since I've only done a single page like this. The other part is, because this page has adult proportions, maybe it won't work as well when they're chibis. Who knows? In hindsight I probably should've waited to draw a couple more pages like this before I posted, but know I would've forgotten half the shit I just wrote here. I guess I can post an update on this development later once I get a bigger sample size.
It is a little annoying that colouring takes so long because I'm so used to just having the fill tool do the work for me, but I think the tradeoff is fine because I save so much time not making the other stuff perfect.
Notes to self:
When colouring the lineart, it will look washed out and with no contrast. this is fine. the extra multiply layer will correct it. you will have the urge to press lightly because of this. but honestly you can just apply maximum pressure and it will look fine with the extra multiply.
for overlay just fill the entire canvas with blue and then place orange accordingly, no need to switch between them
put eye shinies on glasses rims layer
for colouring, so far the easiest is to lay down a black base and then build everything on top of it