So avoiding the complete dumpsterfire that was the drama surrounding Youmacon, it was my best con so far. Some observations: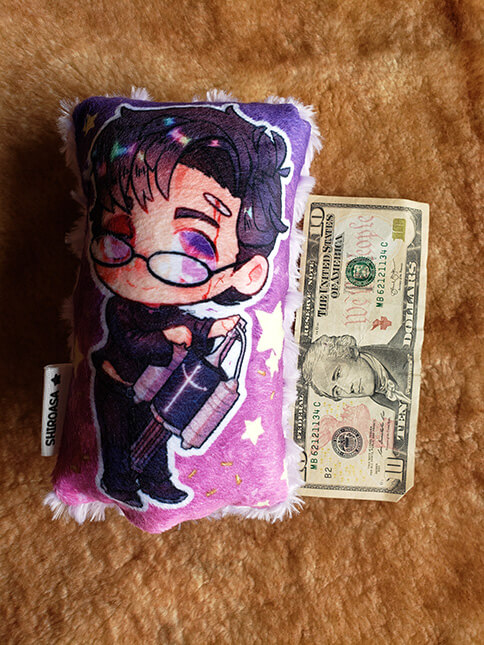 1) I had originally made my small loaf pillows as an alternative to people who gawked at the price tag of my big pillows. However, people preferred the big ones, and were really receptive to the backing I used. When they asked about buying big pillows that had sold out, I offered to sell them the small versions, but many of them declined. For a while I had been afraid that I had nothing to offer that was different than manufactured pillows from Alibaba. After all, you can get double-sided pillows made for cheap that are several inches bigger and you don't even have to do any work for them other than drawing the image. It's time-consuming and expensive just to sew my 10-inch ones, so I felt inadequate next to manufactured ones. The fact that people preferred the backing I use made me feel good, like I do have something to offer, and I don't have to give up my craft just because other people order theirs off of Alibaba.
2) No one was really interested in shikishi board and preferred sketches or ink. I think in the future I'll have a larger price range for commissions and only do OCs. The person next to me took a lot of commissions and listening to the stuff people wanted them to draw just made go …ugh. I don't care for drawing fanart at all. I honestly don't like doing commissions at cons in general, but it gives me something to do during lull times and gives extra money. At Youma I was busy working on other stuff for the booth all day so I don't think I would've gotten much time to work on them either way.
3) I saw a lot of Demon Slayer cosplayers for Tanjirou and Shinobu but their pillows took all weekend to move. Tanjirou only sold one pillow. The other characters all sold out (Rengoku and Inosuke, especially).
4) My charm setup sucks and I'm gonna get a cardstock printed board to put them on, with little placement circles printed on it so it looks organized. My problem also is it's HEAVY so if I'm going to do that, it HAS to be on the table. I had tried taping my charm display onto my grid cubes and it kept falling off sooo..that's one thing to work on.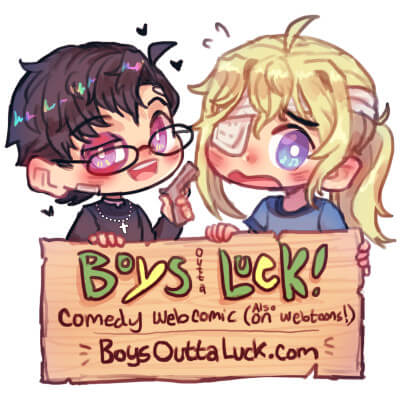 5) I put out my free Boys promo stickers and people seemed pretty receptive to it, even if it was just an advertisement. It's not a stealth advertisement either, it's very clear that I'm advertising my thing, but they all disappeared anyway. I guess it doesn't matter what it is, if it's free. I got a couple new subscribers on the comic so they seem to have worked to some degree.
6) Out of my Fire Emblem stuffs, Claude sold the least which was VERY surprising. Since the only frame of reference I had was online sales (this is the first con I sold FE at), I was shocked that Edelgard sold faster than Claude because I was under the impression that not many people liked Edelgard due to what happens in the story… I was also surprised to find that not many people were interested in the lewd versions; online they sell like hotcakes.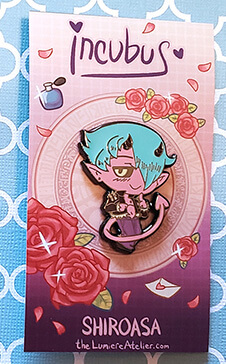 7) People seem interested in Incubus. I was hoping for this because he has a pretty generic demon design. I sold an enamel pin and small pillow of him which is pretty cool! Yeah you might think only selling 2 items of an oc isn't really impressive but when you compare it to the fact that i sell 90% fanart, selling even just one OC thing is really cool. The con I was at the weekend before Youmacon actually got me a sale of a big pillow of him because the artist across from me couldn't stop staring at him since he loves demons.
8) I'm pretty anxious about leaving untethered things on the table. I was selling two stickers and I was fretting about them getting stolen so I hung them up on my cube. No one bought them. I think they either didn't realize they were there or didn't know what they were. on Sunday I moved them to the front, I placed a sample on a small acrylic standee and then put several stickers to grab. Then people started noticing them and buying them. I suppose that when you have several of them to take, it's showing them they're for sale. When they were on the cubes it was too far and I guess out of sight, out of mind.
9) I hate prints so, so much. I can't wait to finally get rid of all my fucking stupid prints. I hate 2d art. 3D art honestly is my calling…making pillows is infinitely more satisfying than churning out dumbass prints.
10) My halloween BNHA charms were a bust … 😩
ADDENDUM 11) I brought my button maker to the con but never used it, making it wasted space. I had an epiphany that my button maker really isn't necessary to bring anymore, ever. It was necessary when my main products were stickers, buttons and prints. But I've grown as a company and I have more things to offer. Buttons are still a popular item of course, but the bulk of my profit no longer depends on them anymore as peoples' sales have spread out to other things.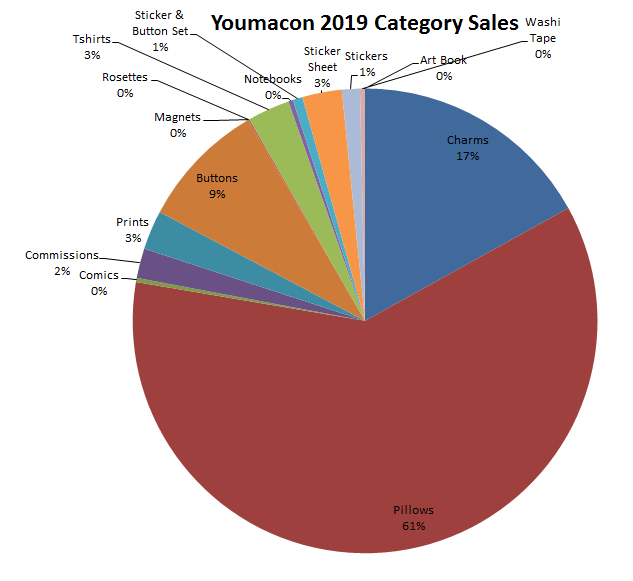 Miscellaneous but there only like 3 tables in the whole con that sold Jojo stuff. I only got a single thing for my Jotaro ita bag which was really disappointing.
I feel like I'm too old for this shit sometimes because I didn't really find anything I was interested in in the alley. I'm always on the lookout for original stuff but it's an anime con, im stupid. So of course I'm finding the same fucking popular characters but just in someone else's style. I did buy some cool original stuff I liked so that was nice, at least.
I also got to pet some service dogs.
Anyway… it was worth the 4.5 hr trip. I'd like to come back if the con isn't in a fucking dumpster from all the bad publicity it's getting.